For high power density applications, conventional air-cooling system may not be sufficient to maintain heat sources under safe operating temperature, the liquid cooling system with high heat transfer capability shall be then considered. A complete liquid cooling system contains several important components underneath: a cold plate, a radiator, a fan, and a reservoir.
The heat source(s) is attached to cold plate made of Aluminum or Copper to remove heat energy, where cool water flows into the cold plate and leaves it with heat through the pipeline to the condenser, then dissipates heat to the ambient. The liquid is returned to the reservoir after heat exchange via the pipeline, and then is pumped to cold plate for next cycles.
Pipe and arrangement may vary according to system space, and we strongly recommend to allocate reservoir in front of pump for maximum and stable flow. Working fluid of liquid cooling system also acts as lubrication to protect pump from over heating, stable liquid flow into pump is great helpful to it's life and thus system reliability.
For the simplicity of flow arrangement, a serial configuration is adapted more common in practice.   Illustration below comparing a serial configuration to a parallel configuration for 3 cold plates (heat sources).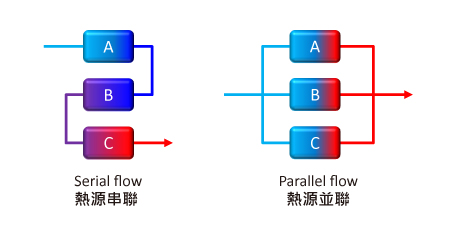 The advantages of liquid cooling is that the specific heat of the liquid is much higher than the air, thus the heat transfer coefficient (h) is very high and the efficiency is much higher than the conventional air cooling.
In practice we feel comfortable at 20 °C with short-sleeved clothes; however in a 20 °C swimming pool, if you do not swim intensely, you will soon feel chilly and have to leave the water. In the same 20 ° C, and we loss much more heat in water than in the air.
Liquid cooling key advantages:
High heat convection coefficient (h) Air 1~1,000 (W/m² K) Water and liquids 50~10,000 (W/m² K)
With pumping and routing design the system is more scalable
Capable to high power and high heat flux
The development and progress of various industries mostly with of system power and performance increase. The performance of water cooling system is superior to air cooling system, however it is also more complicated to do the design It is often used in power electronics, laser systems and medical systems.
There are several aspects and parameters to be balanced when developing a water cooling system. Engineers need to minimize development and manufacturing costs while meeting the thermal target:
Thermal performance
Heat exchange area and pressure drop
Pipeline distribution, pump load and capacity
Flow volume distribution and stability
Weight/size

▲ Cold Plate