The Cooltube® (also call heat column) is a patented closed-loop heat column with an enormous thermal conduction capacity.
Below the picture shows it's working principle, this phase change heat transfer device can move tremendous thermal power away from the heat source. Within the chamber, working fluid boils and generates a pressure difference, which forces the vapor and heat to the condensation zone, gas is then condensed and returned to the evaporation area as a completed cycle.
The Cooltube® is sealed, reliable, and predictable in its behavior, mostly it functions with gravity, with customized design our solution functions as well horizontally.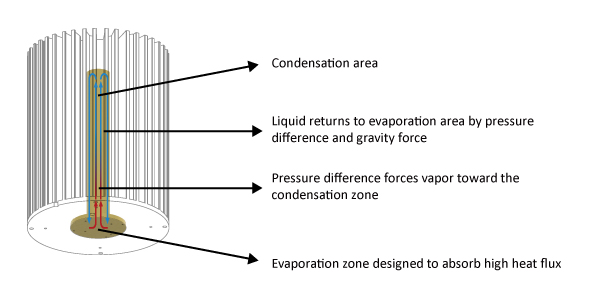 Compare to traditional phase change heat transfer devices (regular heat pipes and vapor chambers), Cooltube® transports enormous amount of heat more effective longitudinally.
Picture below shows an application of high power LED heat sink, in this way the heat from a small light engine or COB is carried away to the rest of cooler extremely fast with very low thermal resistance.
Standard diameter (mm)
Length (mm)

12.7




100~600

16.0

20.0

25.4*

33.0

44.0*

56.0*

80.0

* Popular diameter